Sweet and Sour Pork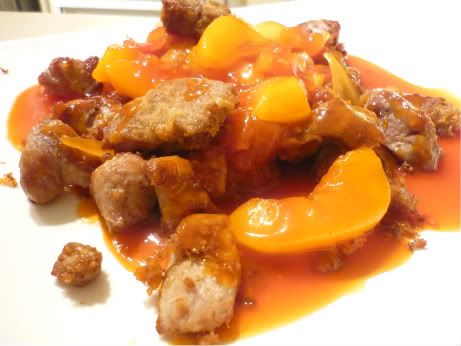 Ingredients (A):
1/2 cup cold water
plain flour
corn flour
1 egg, beaten
Other ingredients:
1 packet of pork fillet
1 can sliced peach
1/2 bottle sweet and sour sauce (Lee Kum Kee)
1 brown onion
1 fresh tomato
Tomato sauce
Pepper
Salt
Meat tenderiser
Method:
1. Cut pork fillet into thumb-sized pieces. Marinate with salt, pepper and meat tenderiser for at least 1 to 2 hours.
2. Combine ingredients (A) to make a liquid mixture and set aside.
3. Chop onion and fresh tomato coarsely and set aside.
4. Warm 1/2 bottle of Lee Kum Kee sweet and sauce in a saucepan under low heat.
5. Add onion and then tomato. Stir intermittently every 5 minutes until onion and tomato soften.
6. Taste the sauce. Add pepper and tomato sauce for additional flavour.
7. Add 1/4 can of peach slices last, at least 10 minutes before serving. Continue to stir to distribute flavour evenly.
8. Prepare a half wok of hot oil.
9. Coat several pork fillet with the liquid mixture before deep-frying them in the wok.
10. A thick foam usually forms as a result. Remove pork pieces after at least 10 minutes of deep-frying. Remove excess oil on the kitchen towel.
11. Repeat Step 9 and 10 until all done.
12. Place pork pieces on a plate. Pour the warm sweet and sour sauce over the pork before serve.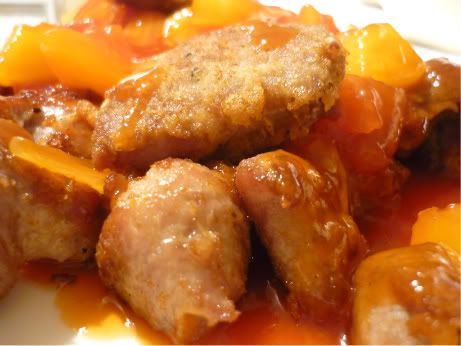 Also refer:
咕噜肉的奶蛋面糊 Batter for Sweet and Sour Pork