Rosemary Sausage Roll (make 3 XL sausage rolls)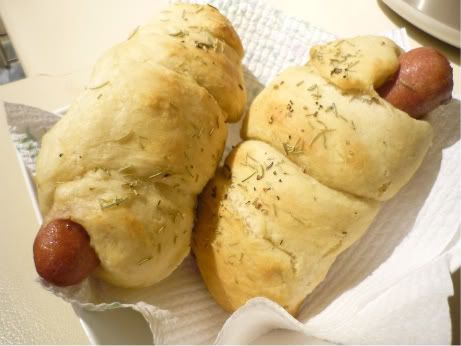 Ingredients (Dough):
2 cups plain flour
1 tbsp caster sugar
1 tsp salt
1/2 tsp vanilla extract
1 sachet yeast (7g)
2/3 cup luke warm water
Ingredients (A):
Honey
Teriyaki sauce
Sugar
Pepper
Other ingredients:
3 sausages
Black pepper
Dried rosemary
Method:
1. Combine ingredients (Dough). Leave to expand for at least 1 hour in a cool, quiet and dark area.
2. Combine ingredients (A) to form a thick paste. Rub paste onto the sausages and leave to marinate for 1 hour.
3. Preheat oven to 180C. Prepare a baking tray lined with baking paper, lightly brushed with some olive oil.
4. Prepare a flat surface, lightly dusted with flour.
5. Remove a tennis ball-sized amount of dough, punch down on flat surface, before stretching it into a long roll.
6. Wrap the sausage around with the long roll.
7. Brush the surface with olive oil.
8. Sprinkle some black pepper and dried rosemary onto the surface.
9. Bake for 30 minutes. Brush the surface with olive oil or butter every 10 minutes.