Celery, Leek and Meat Ball Soup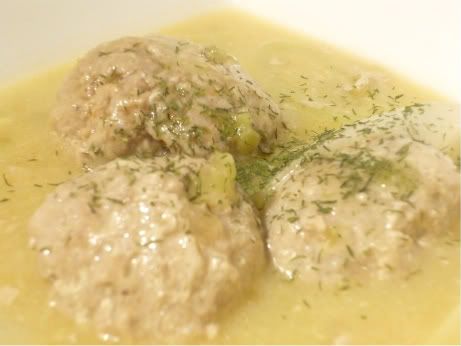 Ingredients (A) (to marinate meat balls):
Oyster sauce
Chilli flake
Five spice powder
Sugar
Pepper
2 eggs
Corn flour and water
Other ingredients:
1 can Campbell celery soup
1 packet pork mince
1 leek
Pepper
Salt
Dill
Method:
1. Mix consistently the pork mince with ingredients (A). Leave to marinate overnight.
2. Dissolve celery cream with equal amount of water in a large pot.
3. Slice leek lengthwise and add into the soup.
4. Roll pork mince into 6 large meat balls using palm. Add into the soup.
5. Maintain the heat at low-medium level for 30 to 40 minutes.
6. Season with salt and pepper.
7. Sprinkle dill to garnish.