Another authentic asian recipe by Alex.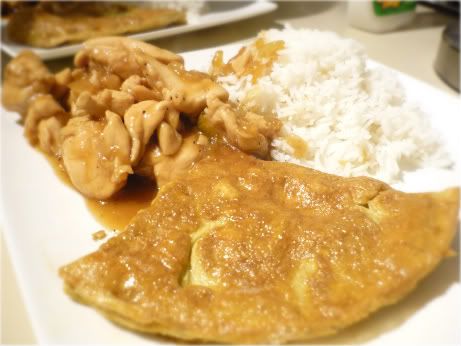 (A) Chicken
Ingredients:
500g chicken tenderloin, cut into pieces
1 brown onion, coarsely chopped
Dashi stock
Mirin
Soy sauce
Sansho (Japanese salt and pepper)
Honey
White wine vinegar
Method:
1. Boil chicken tenderloin for a quick 2 minutes to tenderise the meat.
2. Fry onion in a wok until golden brown.
3. Add boiled chicken pieces into the wok.
4. Add a few tablespoon of soy sauce, followed by sansho, mirin, white wine vinegar and honey.
5. Stir fry for several minutes. Add dashi stock and braise chicken for another few minutes, before adding corn flour water to thicken the sauce.
(B) Omelette
Ingredients:
4 large eggs
Salt
Curry powder
Method:
1. Beat the eggs in a bowl until uniform. To achieve fluffiness, beat egg white separately before adding to the egg yolk.
2. Sprinkle a little salt and curry powder to blend in extra flavours.
3. Prepare a small well-oiled frying pan.
4. Fold egg mixture at low heat for at least 4-5 times.(Coat the pan with a thin layer of egg mixture. Add a second layer when the first layer is nearly cooked. Keep repeating the process until a thick layered omelette is achieved)